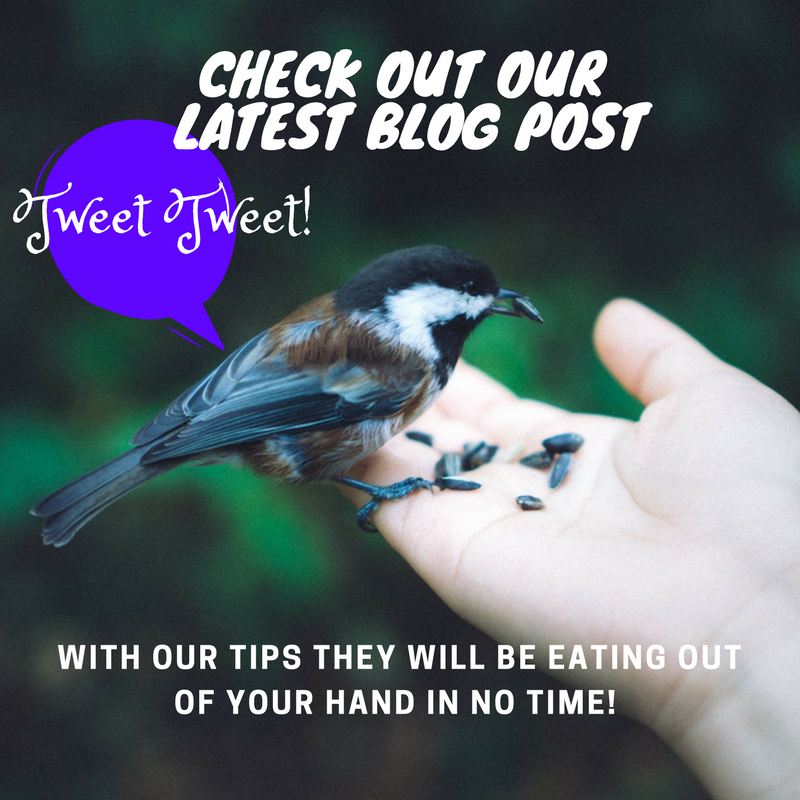 We are delighted to say that it is finally starting to feel like Spring at Nutscene.
The sun is out and we can faintly hear the birds tweeting away! 
This Blog will be discussing our favourite UK birds and how you can help them over the coming year. We have an array of tips, from favourite foods, nesting preferences to their ideal landscapes. 
Love the sounds of little birds tweeting away? Check out our Bird Care Kit.
Having a fat ball/bird cake feeder is a great way of attracting birds to your garden and ensures birds in your area remain fit and healthy. The bird cake kit contains a cake mould to hold the bird cake in place whilst the birds feed.
The kit also contains enough suet and bird seed for you to create your first batch of cakes. After that, have fun creating and testing your own bird cakes!
At Nutscene we really care about the environment. We are proud to say that this product is made from recycled yoghurt pots, making this the perfect gift for any environmentally conscious gardener and bird enthusiast. 

This quirky set includes: Suet Seeds, Recipes and Instructions and a Guide to which seeds attract which birds and a unique cake mould/feeder!
 Blue Tits
Blue Tits are often easily recognised as they known for being frequent visitors to bird tables and feeding stations! Here are some interesting tidbits for blue tit lovers:
 Blue Tits like to eat insects, nuts and fruits and can often be found snacking on hanging feeders that have mixed bird feed! They are known to breed happily in nest boxes. The below Bird Bothy makes the perfect home for blue tits, as they prefer homes with a narrow entrance. These little birds, whilst common, are stunning little creatures that are protected by The Wildlife and Countryside Act 1981. 
Have a look at our adorable Bird Bothy!
This lovely, yet practical Bird House is perfect for little birds seeking a place to nest and to raise young.
Made in the UK from Plywood. The Bothy (a Scottish word for a small hut or hideaway) will help in attracting smaller species into your garden and protecting them - so they can concentrate on the job at hand. 
The flat pack bird house consists of two 1.5mm plywood parts which require assembly with a little creativity. Whilst following the instructions provided to assemble your bird house you are encouraged to add your own personal touch from the colour you finish the house in, to the items you find to secure it, such as matchsticks.
The bird house is packaged in a cardboard sleeve, just the right size to fit though a standard letter box.
Blue Tits, Great Tits, Coal Tits, Tree Sparrows and Pied Flycatchers all welcome in this man-made refuge!
This little Bird Bothy has been designed without a perch and with a hole diameter of 28mm, which prevents smaller birds being antagonised by larger ones. A lovely gift for anyone who loves and protects our diminishing bird population.
Swallows
Swallows are beautiful little birds that are known for their agile and energetic flight, yet quiet nature. Interestingly, male and female swallows tend to look virtually identical. Here are some other key pieces of information for swallow fans:
Swallows tend not to eat at fixed bird feeders. Swallows prefer small insects and tends to go for open gardens with longer grass.  
These birds usually live beside water. Moving water such as water features and bird baths have been used by some fans to encourage swallows. Due to swallows facing difficulties with their habitats, these birds now have an

Amber

Conservation Status. 
If you need a bird feeder then here's a simple and elegant way of recycling unwanted food to your local wildlife. Have fun experimenting to see which birds are attracted by certain foods.
Dimensions 95x120mm. This Bird Feeder also comes with a guide to all of the types of food you can try!
We recommend that apples and pears go down a treat with Robins and Thrushes! Peanuts are loved by finches and woodpeckers. 
 Thrushes
Thrushes tend to be known as songbirds. They were known as one of the most common birds in Britain around a 100 years ago, however they have now become quite a rare sight. Here are some facts for thrush enthusiasts:
There are 4 types of Thrushes that regularly breed in the UK. They are particular fans of seeds, insects and fruit and prefer to eat off the ground- so gardens that don't have pesticides or insecticides are your best bet. They are one of a few British birds that eat snails. Thrushes enjoy bathing... a lot... so a shallow bath not too far from the ground is ideal for them. 
Our Bird Feeding Table is a food waste table that has been designed to enable leftover household food to be easily offered to the birds in your garden, rather than having to buy expensive "off the shelf" food.
Made from recycled plant pots, collected through our UK wide 'pot to product scheme', the food waste table provides a clean and practical way of offering unwanted food to your needy little neighbours.
Comes ready to hang in the garden with string. Just add the food!
  Yellow Hammers
Sadly, Yellow Hammers have become an extremely rare sight nowadays. Due to the many difficulties that their species face, these birds now have an Red Conservation Status.   Here are some data on these exceptional birds:
These birds enjoy open gardens and hedgerows. When found, they are likely to be sitting on top of a hedge or fence post singing! Yellow Hammers enjoy a varied diet including seeds, blackberries and spiders. These birds taken an equal share of the chores, with both male and females bird taking responsibility for feeding their young. 
  Starlings
Another bird that also has a Red Conservation Status are the Starlings. These birds are known for their fast flight and confident walk, but what you might not know is that they can be quite noisy! 
 Starlings enjoy wide open country landscapes.
These stunning birds are known for their murmurations: where large numbers of the birds display their talents through spectacular flying shows. They enjoy insects, seeds and fruit. A favourite treat of theirs seems to be peanut cake! Be careful though, due to the starlings' nature, there is a complaint that starlings are caught swooping down and completely clearing a bird feeder of all food in minutes! 
Are you a fan of bird watching? Is your garden a bird watching haven?
 Do you have any pictures that you would like to share - get in touch! 
We love to hear from you!
Lots of love, 
The Nutscene Team