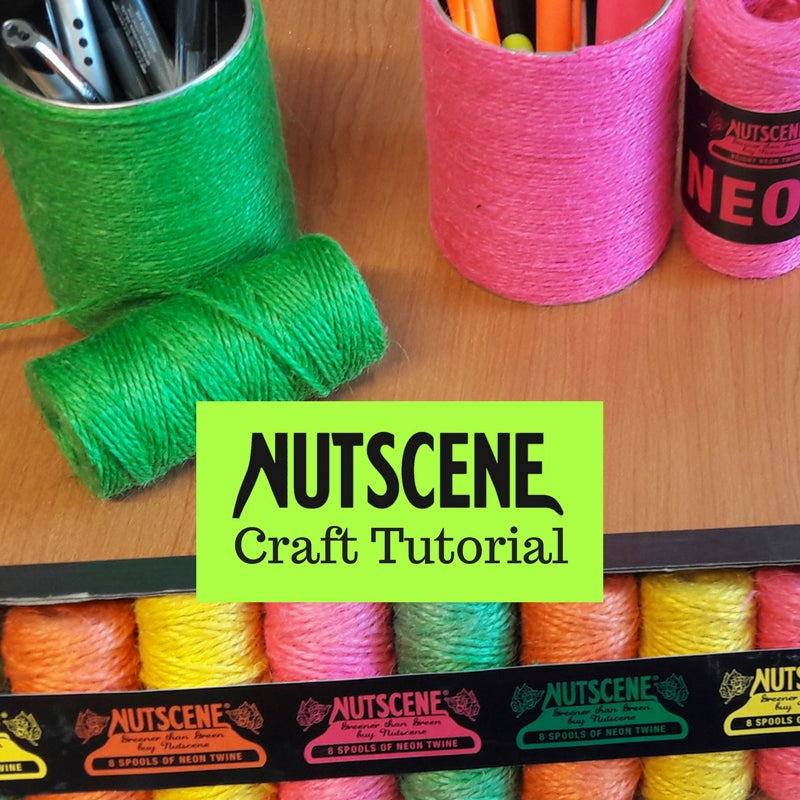 DIY Desk Tidy Twine Tutorial!
We were delighted with the positive response that our desk tidy received! So we thought we would create a tutorial so that everyone can spruce up their office with a funky neon desk tidy!  
Step 1 - Materials to the ready!

 What you will need:
Scissors
Strong adhesive
Glue gun (optional)
Twine
A pot or tin 
Step 2 - Prep Time (Optional)
Here at Nutscene we love to recycle and to reuse things. We found a slightly bashed tin from the factory and thought we could find it a new home!
The texture of our tin was smooth. We felt the glue and twine would adhere better to a paper surface. So we decided to apply a paper sleeve to our tin and then let it dry. 
So depending if you decide to use an old coffee container or a tin of baked beans, you can decide whether you want to follow this additional step. 
Method:
Cut out a paper sleeve that covers the sides of the tin.
Apply a strip of glue at each end of the paper.
Make sure that the paper dries to the tin before starting off with the twine. 
Step 3 - Starting off right
 Now you are ready to start twining! 
Method:
Have your twine ready.
Paint the outside of the base of the tin with glue. Gently lay the twine on top of the glue and continue to wrap the twine around the tin.
Step 4 - Slow and steady wins the race!
Method:
At Nutscene, we strive for perfection! So we kept pushing the twine together in a downwards motion to ensure that the twine was tightly packed together. 
Step 5 - Moving on up...
Method:
Once you are off -just keep painting the glue and placing down the twine.

Its up to you how far you want to keep going- we suggest using a mix of colours to create a bright and show-stopping effect!
Step 6 - Show off the finished result!
Voila!!! A beautiful desk tidy to brighten up the office! 
Fancy sprucing up your desk? We would love to know if you decided to tackle this tutorial! Let us see your colourful creations - we look forward to seeing your new and improved desk tidy soon!  The Neon range can be purchased at: https://nutscene.com/products/neon-twine-spools 
Lots of love, The Nutscene Team