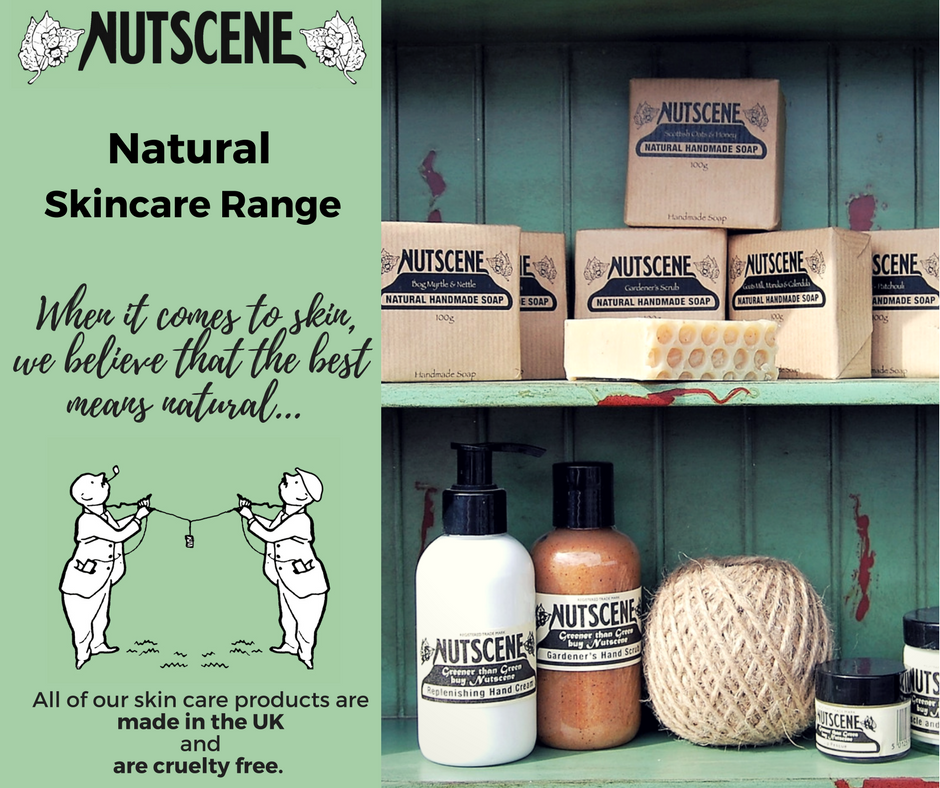 At Nutscene, we think skin matters.
When it comes to skin, we believe that the best means natural. 
We also work very hard to make sure that our products are eco-friendly and sustainable. 
We are proud that all of our skin care products are made in the UK and are cruelty free.
 Handmade Natural Soap
At Nutscene, we are proud to offer
Handmade Natural Soap.
We only offer Scottish soaps with natural ingredients -as we believe in caring for you AND the environment. 
We are proud that all of our handmade natural soaps contain
no palm oil. 

You might be wondering why that is important - we suggest you keep reading...
According to the World Wide Fund for Nature, the creation and manufacturing of palm oil plantations are resulting in the destruction of safe environments for endangered animals. 
Palm Oil is widely used in cosmetics, food and detergents. The success of the palm oil industry has resulted in huge demand, because of this many companies have started developing their own plantations.
This has resulted in wide areas of land that is naturally tropical forest or vegetation being turned into commercial production sites.  
This has resulted in the loss of safe habitats for endangered animals and has resulted in the eviction of families as well.  
Tigers, rhinos, elephants and orangutans are some of the animals said to be suffering at the hands of the palm oil industry.
The destruction of these animals' safe environments has resulted in decreased population and in increased fighting as animals are forced to share smaller and smaller habitats. 
Sadly, the problem is much wider than simply the creation of plantations.
This serious problem extends to an overall reduction in biodiversity within the surrounding areas of the plantations. There has also been an increase in the poisoning of animals and in the harvesting of animals.


Our Promise
Not only are our soaps and skin care very kind to your skin, we always try to make sure that they are kinder to the environment.
Our soaps contain no palm oil, so you can rest easy knowing that you are making a difference simply by carefully choosing which soap you buy. 
Choose Nutscene soaps and don't support an industry that is jeopardising our endangered species and threatening scarce natural habitats. Take no soap in place of it!
Choose from a range of six Natural Handmade Scottish Soaps, all these soaps are produced from 100% natural ingredients: 
Scots Oats and Honey
Whisky and Ginger
Lavender and Cedarwood
Gardeners Scrub Soap 
Bog Myrtle and Nettle
 Goats Milk, Manuka and Calendula
(This one is ideal for those who prefer an unscented soap!)
Weight of soap -100gm, Size 6cm x 6cm approx.
 Ingredients for each individual type of soap can be found on our website.
Muscle and Joint Relief Cream
Our wonderful Nutscene Muscle and Joint Cream is the perfect antidote for tired and aching bodies.

Whether you've been gardening, playing sport or have arthritic pains- this is the cream for you. This cream can be used to relieve a wide range of ailments such as arthritis, rheumatism, sprains, strains, sciatica, and neuralgia.
Massage gently into affected area.
It combines warming ginger, pain relieving juniper, calming eucalyptus, and lavender essential oils in easily absorbed beeswax.
We are proud to announce that our Cream contains no parabens, sodium lauryl sulphate, fragrances, palm oil or lanolin.


This product contains 60ml.
 Ingredients list: Aqua, Helianthus Annuus Seed Oil, Cetearyl Alcohol (Vegetable Emulsifying Wax), Glycerin, Cera Alba, Zingiber Officinale (Ginger Oil), Juniperus Communis (Juniper Oil), Eucalyptus Radiata Leaf/Stem Oil (Eucalyptus), Lavandula Officinalis Flower Oil (Lavender Oil) Dehydroacetic Acid, Benzyl Alcohol.
Organic Hand Scrub 
It also contains olive oil, geranium and spearmint to leave the hands moisturised, soft and refreshed.
This produ
ct contains 150 ml.
Ingredients list: Aqua, Olive Stones, Glycerin, Olea Europaea (Olive Oil), Hamamellis Virginia (Witch Hazel), Cetearyl Alcohol (Vegetable Emulsifying Wax) , Mentha Spicata Flower/Leaf/Stem Extract, Pelargonium Graveolens Oil, Dehydroacetic Acid, Benzyl Alcohol
Organic Hand Cream
Our
Replenishing 
Hand Cream
 is made in the UK with natural Ingredients, making it a soothing and replenishing option. 
This hand cream is in a handy-to-use pump action bottle. It contains jojoba for its moisturising properties making sure that your hands are ready to take on any task!
Our Hand Cream also contains lemongrass giving it a fresh, subtle fragrance - making it an ideal present for both men and women.
This product contains 150 ml.
  Ingredients list
: Aqua, Helianthus Annuus, Cetearyl Alcohol (Vegetable Emulsifying Wax), Glycerin, Cera Alba, Cymbopogon Flexuosus Oil, Simmondsia Chinensis, Pelargonium Graveolens Oil, Citrus Aurantium Bergamia, Dehydroacetic Acid, Benzyl Alcohol.
Lip Rescue from Nutscene
Check out
Nutscene's Lip Rescue
-perfect for lips in need of some extra TLC. This salve is a rich blend of soothing and healing oils such as calendula and apricot.
Added to this is protective and cleansing beeswax and cardamom essential oil.
This product contains 15ml.
 Ingredients list:
 Cocos Nucifera, Olea Europaea, Prunus Dulcis (Sweet Almond Oil), Cera Alba, Calendula Officinalis Flower Oil, Citrus Reticulata Peel Oil, Elettaria Cardamomum Seed Oil
Due to the use of natural ingredients, all of our skin care products should not be exposed to direct sunlight and should be kept in a cool place ideally a cupboard or a drawer. 
 We would love to answer any questions if you have any. 
Or if you are already a fan of this range - let us know! We love to hear from you!
Lots of love, 
The Nutscene Team