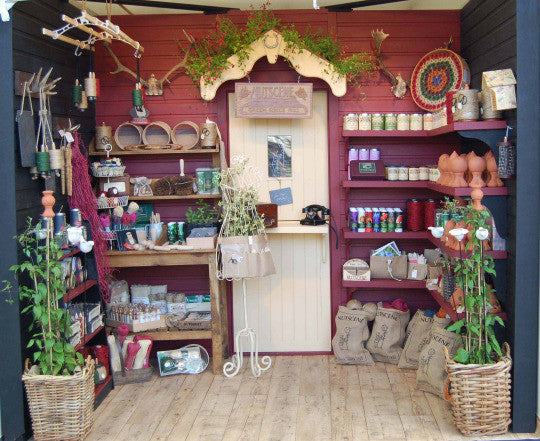 It has been a very busy start to the year for Nutscene 1922! We have only recently launched a new website and have already been halfway across the world to numerous trade shows, such as Ambiente in Frankfurt and Source British in LA. It is fitting that as this post is being written, there are considerable preparations ongoing within the offices here in Angus. Currently we are gearing up for another show as the summer season approaches. In less than a month we shall be attending the holy grail of gardening events - The RHS Chelsea Flower Show 2017.
However, this will not be our first time attending the prestigious gardening exhibition. It will in fact be our tenth anniversary as we first attended the event in 2007. We are extremely excited and have promised to ensure it will be one of our most notable appearances yet!
Having recently explored our archive within our HQ in Kingsmuir near Forfar, we have unearthed some memorable images from some of our previous appearances. We would love to share some of these memories with you, our faithful customers!
Nutscene 1922 Travel to Chelsea
Our love affair with Chelsea began in 2007! We were first time exhibitors and were extremely excited to be attending the most prestigious flower show in the world. Having been established nearly 100 years ago, it was felt among the company that this was the stage that Nutscene deserved; the 5 day Chelsea flower show was an exhibition where the Nutscene brand belonged and could flourish! It was and is the grandest stage that we could showcase our products and it's now an event that we look forward to every year - a real highlight in our calendar if you will!
2009 - A Rustic Theme
In 2009 we adopted a rustic and rural inspired theme. We introduced terracotta gardening accessories, we decorated the stand with hessian sacks with the stand appearing as a gardeners potting shed. We painted our stand walls in a wine coloured burgundy in order to highlight and showcase our fantastic array of products which ranged from our core range of twines to our range of innovative garden finials. 
Below is an image of our Chelsea stand in 2009.
The proud arm that collected each of the 6 wristbands for the Chelsea Flower Show in 2009.
2010 - Nutscene explores and showcases its heritage as a business
Below: Its all hands on deck as Nutscene CEO Shona gets the paint brushes out to touch up the Nutscene stand. Every year, several month's work of preparation goes into the Chelsea Flower Show - right up until the last second! The presentation of each stand is judged to a very strict criteria and so it is vital to plan, plan and plan some more!
Above - Chelsea 2010 - The finished article! We must admit, we feel we thoroughly deserved an award for this stand! As you can see below, we were awarded with a certificate of merit for excellence in the presentation of it. It was yet another accolade to add to the proud history of Nutscene 1922 - but it would be by no means the last! What made this stand so special was that we looked to the past for inspiration. As a featured centrepiece, we used imagery of the Verdant Work's ladies (c1911) that worked in the textile mills in Dundee. Nutscene 1922 tie its roots to Dundee, with Verdant Works being one of the largest factories in the city at the height of the 'juteopolis' era.
2011 - Same Show - Different Theme
Below: Our stand from 2011 where we adopted a very new, striking and fresh look!
Our effort from 2011 was aesthetically softer. We introduced an array of flowers to decorate the stand and used whits, greys and slates to act as base colours. Our range of twines were the focal point and added a vibrant burst of colour!
Below: After a long day it was time to down the tools and pack up for the night. We were in eager anticipation of the show opening in 2011 as we downed the curtain for the night! 
 2013 - Year of the Punk Revival!
A punk revival occurred in 2013! After our trip to Las Vegas we were inspired, and introduced new packaging and a new style of branding! We also launched a new product, which payed tribute to the centenary celebrations of the 2013 Chelsea Flower Show. 
Below - now that is one colourful trade-stand! Neon twines were introduced as was the Nutscene Chelsea Tin'o'Twine - one of our boldest and most talked about innovations which was launched in time for the 100 year anniversary of RHS Chelsea Flower Show.
Above - A friendly looking pair of punks enjoying the festivities as the show comes to a conclusion.
2017? 
Well we personally cant wait for the show of 2017. The event will take place between the 23rd to the 27th of May and we will be adding another 5 wristbands to our archive for certain! It's now less than a month away as planning and preparations are being finalised. There will be no spoilers on this page with regards to our plans, but one thing is certain, Nutscene will be bringing the colour to 2017!
Are you attending The Chelsea Flower Show this year? If so, look out for us (you cant really miss us with all of the colour and eccentricity!) and come and say hello! Do you have any stories from Chelsea that you can share with us? We would love to find out what people's personal highlights are and what they are most looking forward to!